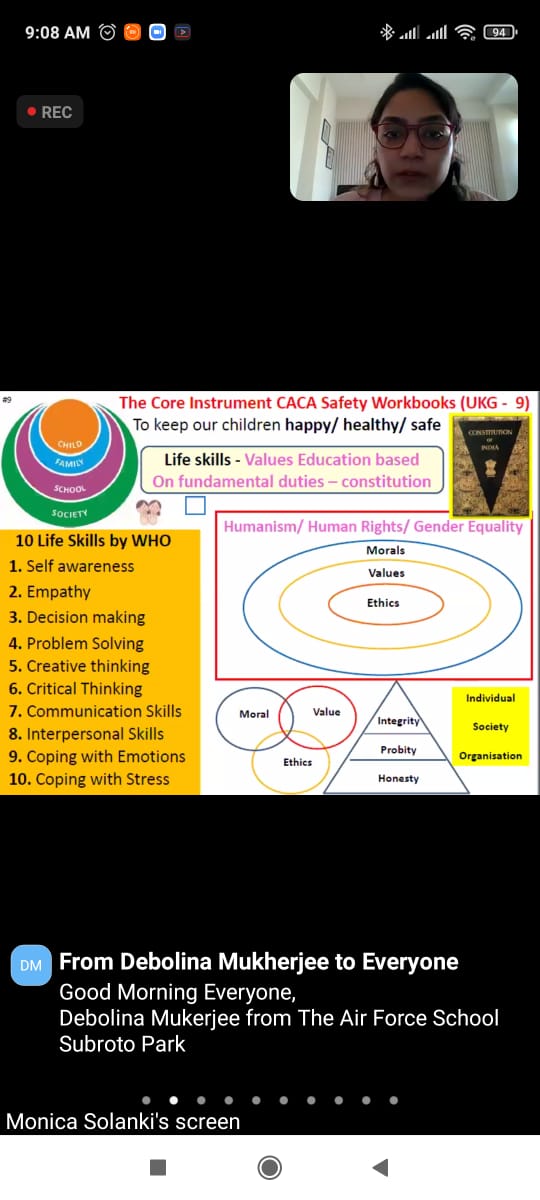 CACA WORKSHOP FOR AIR FORCE SCHOOL
Title- Project CACA workshop-Air Force Schools (POCSO Act)
Resource person– Advocate Neha Tyagi
Date & time- 25 Sep,2021;1530 TO 1730hrs
Project CACA organized an online workshop on Legal Sensitization on POCSO ACT conducted by Advocate Neha Tyagi, a legal consultant and a lawyer at honorable supreme court and Delhi high court with teachers of Air Force Schools.
All TGTs of Air Force School, Bhuj along with the Principal Mrs Shalini Kaistha have joined this workshop and learnt about Legal sensitization on POCSO ACT.
In this workshop we learnt about POCSO ACT and Legal Sensitization and its role in children's life, what are the benefits of POCSO ACT in education system in schools. The Act was amended in 2019, to make provisions for enhancement of punishments for various offences so as to deter the perpetrators and ensure safety, security and dignified childhood for a child. The resource person has discussed about different laws and its importance of POCSO ACT.
Thus, all important laws of POCSO ACT were introduced and well explained to the teachers.
Date: 25 September 2021
Timing : 1200 hrs to 1300 hrs
Workshop on 'ASPECTS OF CHILD SEXUAL ABUSE' under Project CACA
Resource Person : Ms Akansha Khanna
Attended by : Mrs Shalini Kaistha (Principal)
All PRT
Introduction :
Online workshop was conducted through Zoom App. Workshop started with the opening address by the Resource Person Ms Akansha Khanna who highlighted that Studies across the country have reported a staggering statistic, of every second child being the victim of some or the other form of sexual abuse. There is a need to increase the awareness regarding CSA and sensitize the prime persons in a child's life that is parents, teachers and peers, who can bring a definite change in the intervention by reporting it early.
Aim :
The aim of the workshop was to Increase community education and awareness about child abuse , including strategies for prevention , intervention and treatment . Increase community coordination and communication pertaining to child abuse issues. Build the capacity of all the school teachers on children welfare and safety under the umbrella of Project CACA.
Concept :
The resource person explained this concept by using PPT .She not only helped the participants to understand the concept of CSA but also discussed about various psychological, emotional and environmental effects emerging out of them. through various case studies . The workshop became more educative and informative. The master trainer elaborated the set of techniques that help in sensitize and train teachers on their roles and responsibilities for children welfare and safety.The workshop was quite informative, educative and interactive.

Conclusion:
The session came to an end by filling feedback form along with the question answer session and proposed gratitude to the resource person by the participants . The teachers were sensitized about the types of abuse and what measures should be taken to prevent such issues. All the participants were convinced that they have to learn to handle these situations in the school and they agreed to implement the suggestions.
REPORT ON PROJECT CACA WORKSHOP – AIR FORCE SCHOOL BHUJ
A project CACA workshop was conducted on the 25th of September 2021. It took place on Zoom app at 9am. Many Air Force School teachers from all over India took part in this session. We the NTT teachers of Air Force School, Bhuj also got a chance to join it with our principal Mrs. Shalini Kaistha and acquire knowledge on child abuse, as we cannot be present with our children all the time. Hence it becomes very important to empower our children against abuse.
This session was totally on the problems faced by children at school,like child abuse and child violence and the punishments towards its crime. Some main important points were discussed like on some workshop like :
*Legal Awareness cum sensitization Workshop……POCSO – Protection of Children from Sexual Offences Act 2012 &2019 amendment…..
Ojectives of the above said Act
1.Comprehending the POCSO Act
2.Capacity building to read the POCSO bare Act and how it operates the criminal justice system.
3.Role and responsibilities of educator / schools under the POCSO Act and related circulars.
UNCRC 1989 – A Paradigm Shift
Core Principles for Child Rights
*Non Discrimination
*Best interest of the child
*Survival and Development
*Participation / Inclusion
Criminal Justice System is divided into four laws
*Judiciary
*Investigation Agency
*Substantive Laws
*Procedural Laws
Punishments towards this crime will be imprisoned of about 3 to 7 years in respect of not obeying these above said Acts, Principles, Rights and Laws.