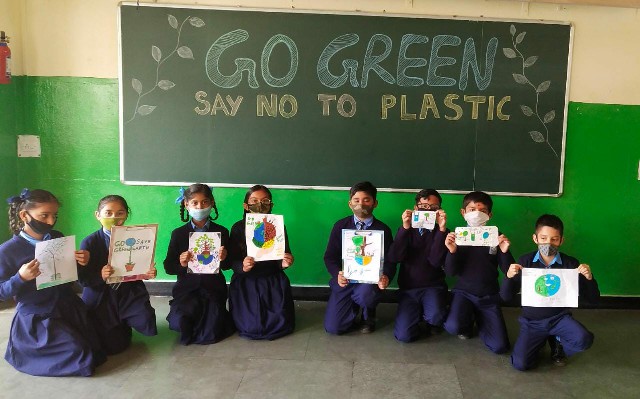 DRAWING ACTIVITY-GO GREEN
AIR FORCE SCHOOL ,BHUJ
REPORT ON DRAWING ACTIVITY ON SAVE ENVIRONMENT (GO GREEN)
Date-16/02/22
" I don't want to protect the environment, I want to create a World where the environment does'nt need protection".
The environment is the most important aspect to survive on this planet. Humans tend to forget that without a balanced environment, life cannot be sustained. With climate change upon us, sea levels on the rise, and increasing numbers of earthquakes, floods, and droughts, we cannot stress this enough.
To mark the importance of nature and save the environment, Air Force School Bhuj, conducted drawing Activity on the topic "Go Green" And "Say No To Plastic"by Classes
I To V on 16th February 22. Various intriguing activiities were conducted to involve the students in learning the importance of trees like-Poster Making, Art and Craft involving.The theme of the Activity was "SAVE ENVIRONMENT(GO GREEN)" which sent a message to the students to Go Green in order to keep the environment eco-friendly. The students participated with full zest and zeal to make it an enjoyable learning experience.
-Mrs. Saraswati Ray