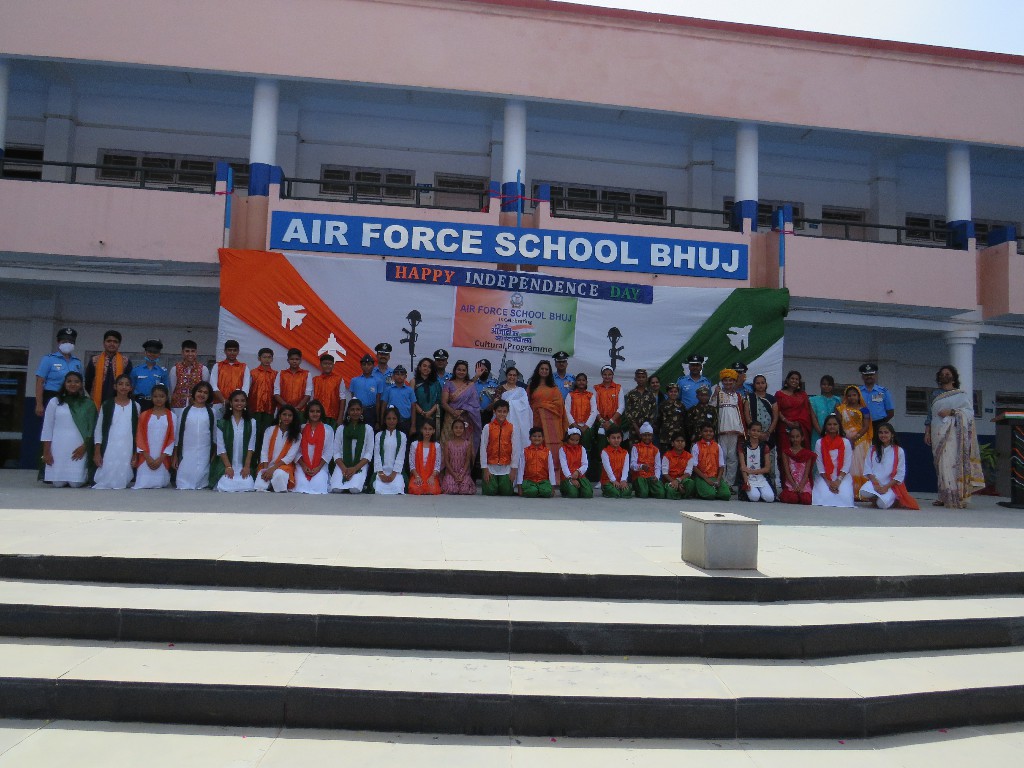 INDEPENDENCE DAY CELEBRATION
This year as on 15th August, 2021 the celebration of 75 years of Independence Day was held in a mesmerizing way in the campus of Air Force School, Bhuj. All the guests of honours were welcomed on behalf of the education director Sqn Ldr Sameera Hooda, Principal Mrs. Shalini Kaistha, Head Mistress Mrs. Chandresh Katoch to this grand celebration of Independence Day.
The morning of the Independence Day in the school started with a grand morning programme at exactly 10.00 am with great enthusiasm. The programme started with Flag Hoisting accompanied by National Anthem by the Chief guest- Air Commodore Maluk Singh VSM. The guests of honours were President of Afwwa local Mrs. Balraj Kaur, Chief Administrative officer Group Captain Raji Ranjan VSM, Mrs. Priya Sinha and other distinguish guests have attended the programme.
On the very first a speech was given by Samartha Gurtu the student of Class-IX. Later a small cultural programme started with Orchestra. Some students have performed their talent through different musical instruments. All were amazed by this musical performance. After that a skit on 'Virangnas of Bhuj' based on a remarkable scenario of 'Indo-Pak War' was acted upon stage by the students. The third and last but not the least, a dance on patriotic medley was fabulously done by our young dancers.
After a small cultural programme it was time to acknowledge the talent of students of class-X for the session 20-21 by given them awards. Then all the subject teachers who taught them were also given prizes by President of Afwwa local- Mrs. Balraj Kaur . At last words of inspiration spoken by the chief guest Air Commodore Maluk Singh, then the programme was ended successfully with tree plantation followed by refreshment.