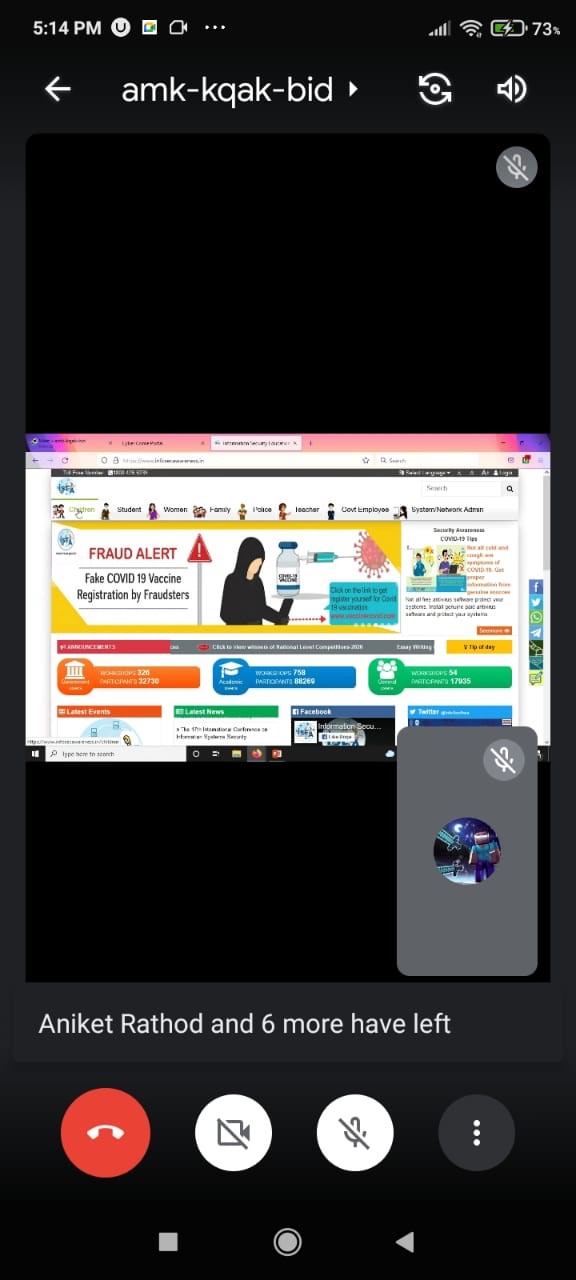 IW AWARENESS WEEK(CYBER SECURITY)
IW AWARENESS WEEK
An online workshop on Cyber Security Awareness was conducted for Air Force School students by Station IT section on 19 July 21 as part of IW Awareness Week.
Sgt Prasad(IT Section) gave an Online Cyber Security lecture on Google meet for the students. In this cyber security awareness Workshop, He explained the threats and vulnerabilities that every one of us face especially the young people. Highlighting the challenges of today in the area of information security and the threats of botnets and zombies. Further, He briefly explained about various attacks, like Phishing, E-mail Spoofing, Ransom ware, DDOS attacks and also mentioned measures for protection from such attacks.
He discussed various issues such as Identity Theft, Cyber Terrorism, Stalking, Cyber Bullying and Online Banking Frauds. He advised students to effectively use 2-Step Security measures, keep correct settings on the web as well as applications and a safe usage of Debit and Credit Cards. He not only guided students on how to be secure while being online but also talked about the penalty and punishment one has to bear for committing Cyber Crimes under the Indian Cyber Law.
Hacking is not about the illegal things it's all about how to secure your system. In the workshop Google Hacking, Email Hacking, Dos Attacks, Trojans, SQL Injection, Windows Hacking, Mobile Hacking etc. topics will be covered. This workshop aims to give students a basic knowledge of ethical hacking, information security, cyber security and how to protect your computer systems against these vulnerabilities.
Emphasis on topics like how hackers can hack into a smartphone, website hacking and admin panel bypass, undetectable virus which can steal data, ransom ware development and safety measures, social media (Face book, Instagram) hacks and many more are also explained and discussed.
The workshop session considered the following Ethical Hacking questions: (i) Do the users Think that their Face book Passwords Are Safe? (ii) How Do the users Know If the Transactions that they performed Are Safe or Not? (iii) What If someone is monitoring the users Gmail Accounts? What are the users going to Do Then? Have the users ever thought About It?
IW Poster making competition was conducted for the Air School Students of Classes 6 to 10. The Competition aims to encourage the students to adopt best practices in data protection, enhance their awareness of cyber security and draw their attention to the importance of information security.
It is a well-known fact that prevention is always better than cure. The session created awareness (and alarm) for the audience for the need to exercise caution while using technology. Overall, it was an interesting and informative session.