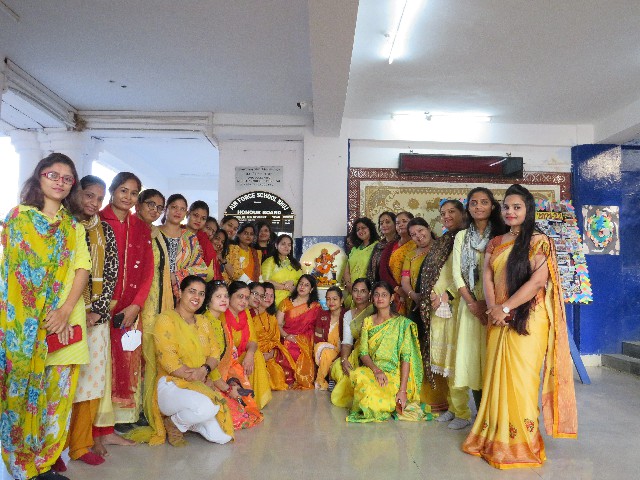 VASANT PANCHAMI CELEBRATION
Air Force School, Bhuj organized the BasantPanchami celebration on 5th February 2022.
The Principal MrsShaliniKaistha the Headmistress MrsChandreshKatoach along with teaching and admin staff assembled at School to offer puja to Goddess Saraswation occasion of BasantPanchami. The puja started with a beautiful Saraswativandana and after that Prasad was distributed among all.
BasantPanchami is also called as Saraswatipuja. A festival that marks the preparation for the arrival of spring.BasantPanchami also marks the start of preparation for Holika and Holi which take place forty day later.
As per a popular belief, Goddess Sraswati, who is said to be the deity of learning, music and art was born on this day and people worship her to achieve wisdom. This day is considered extremely auspicious to start new work. The colour yellow has a great significance in the celebration of BasantPanchami as it marks the harvest time of mustard crop that has yellow jblooms, which is Goddess Saraswati'sfavouritecolour. Yellow attire is therefore worn by the followers of Saraswati. Moreover, tradition feast is prepared for the festival wherein the dishes are usually yellow and saffron in colour.
The colour of Basant is yellow which symbolizes peace, prosperity,light,energy and optimism. That is why people wear yellow clothes and make traditional delicacies in yellow hues. Overall this day is also marked as the birthday of Goddess Saraswati.